Haircuts & Styling
Beaners Haircuts & More
Baby's First Haircut
Helping You Mark A Memory
Getting your baby's hair cut for the first time is a memorable occasion. At Beaners Fun Cuts, we want to help you remember this special moment. Not only do our stylists take the utmost care when handling your baby's first hair cut, but they will also make you a keepsake to take home. Your stylist will give you a "Baby's First Haircut" certificate to commemorate the occasion and a lock of your baby's hair.
Baby's haircuts can be stressful, but when you choose Beaners Fun Cuts, they don't have to be. Our stylists are masters of distraction and will keep your baby's haircut experience fun and safe. Often for a first cut, our stylists might ask mom or dad to hold the baby in their lap while they get their hair cut. Parents are encouraged to call their preferred location to make their first appointment.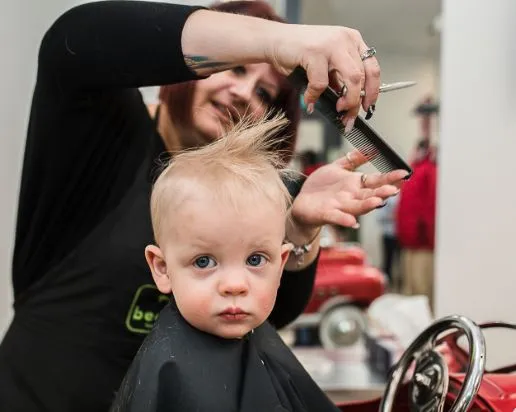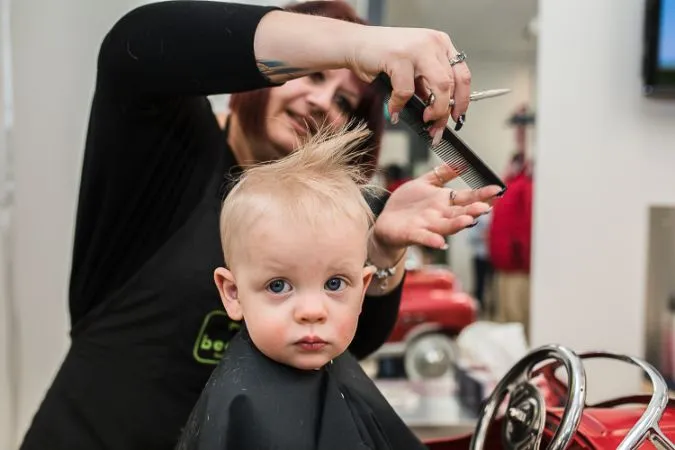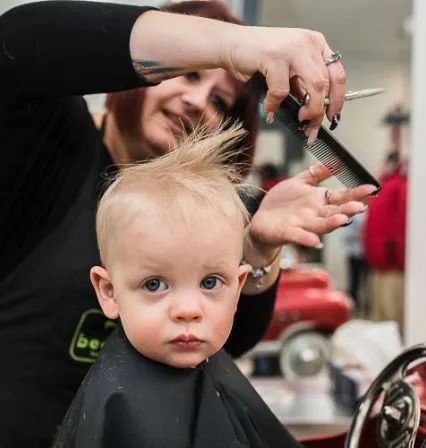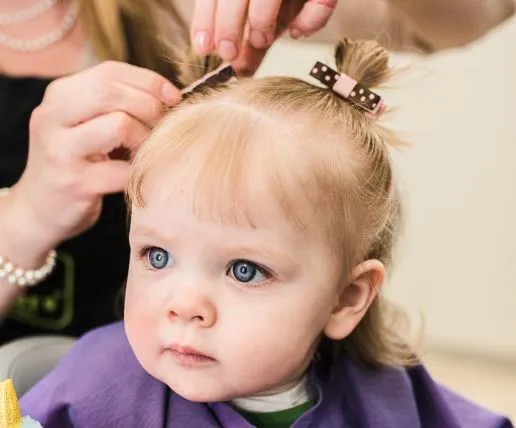 We do this so your child is comforted. But we also encourage it so the stylist can efficiently work around the baby, who will likely be moving around quite a bit at that age.
Our stylists are trained to deal with fussy babies and are understanding about how to work with them. Consider your baby's nap schedule and what time of day your baby feels most content and plan the appointment to avoid the "danger zone".
We know that parents are worried, especially when a stranger is handling their baby with sharp objects. So why risk getting your baby's first haircut done at a traditional salon? Kids' haircuts are Beaners Fun Cuts' business. We are experienced and trained to handle baby cuts with care.
Toddlers & Kids Haircuts
Making Haircuts Fun
Beaners Fun Cuts specializes in toddler and kids haircuts. Our company was created to provide a fun space where kids and their families want to return to again and again for a haircut.
Toddlers are still learning their way around the world and often want to have mom or dad close by when they get a hair cut. By creating a fun and relaxing atmosphere, we put even the littlest minds at ease. For older kids, parents can stay with them for their cut, or sit back and wait while one of our expert stylists work their magic.
Traditional salons often are not able to provide the same experience we do at Beaners. Our salons are built with kids in mind, with themed rides for them to sit on while they get their haircuts. We also have a play area, video games for the older kids and TVs playing the latest in kids hit movies.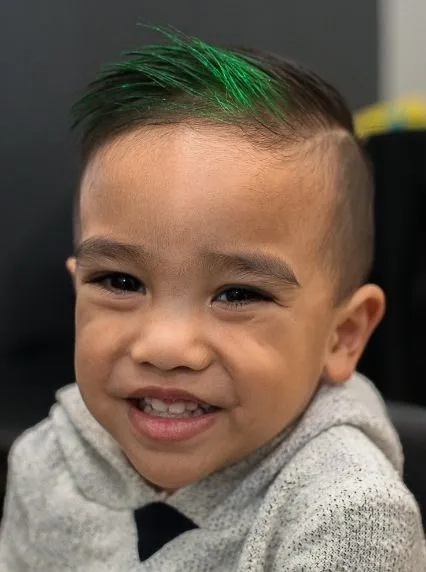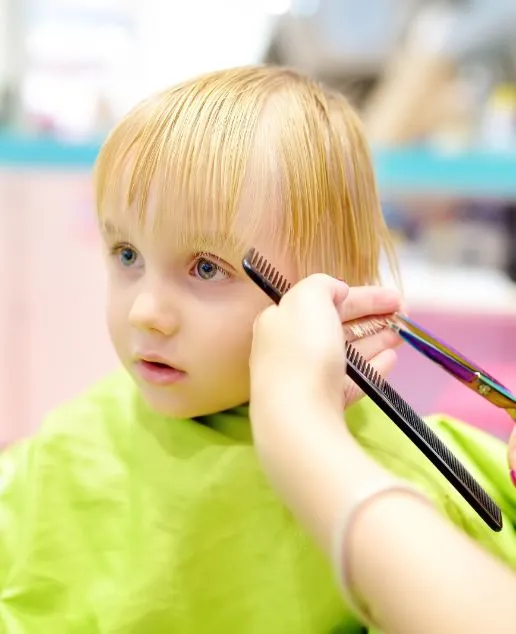 Always A Fun Time At Beaners
When your kids have fun while they get their haircut, they won't have negative associations with the experience, and you won't have to fight with them to get them through the door. We aim to have your kids excited at the mention of a haircut at Beaners. Our salon spaces are lively and created with fun in mind. We also only hire hairstylists that understand kids and how to keep them happy and distracted.
You can trust that our stylists can handle even the fussiest of kids and will be able to distract and handle uncooperative toddlers. In fact, their experience means that even the squirmiest of toddlers will still walk out with a great hair cut. When you bring your child to Beaners, they'll never want to go anywhere else!
We also want our salons to be an oasis for parents, where they can relax while their kids get their hair done. Or even get their own hair taken care of, with our men and women hair cuts and styling services. Find out more about our adult salon services.
Tween Haircuts
Helping Tweens Explore Their Style
Haircuts at Beaners don't stop being fun for the older kids. We aim to make every haircut and service at Beaners a fun experience, no matter how old you are. Our stylists specialize in tween haircuts and finding the perfect style and cut for your kids. We understand how important it is for tweens to establish their style and look. All of Beaner's stylists are committed to helping your kids find the perfect style to suit them.
Bring your tween down to Beaners for their next haircut. Our salons come fully equipped with traditional salon chairs, but just because they're sitting in a big kid's chair doesn't mean they can't have fun. Between fun temporary colours, braids and fun shaved designs, your tween will have many options to choose from to spice up their style.
Teen Haircuts
Haircuts, Styling & More
Have a teen that needs to get a haircut? Beaners can help your teen with their hairstyle dreams. We can handle any cut, colour and style. When they come to Beaners, they'll get to sit in a traditional salon chair, but our services are focused on fun. For the older kids, we have TV screens equipped with video games to keep them occupied.
Beaners was designed for kids of all ages, teens and adults included. Bring your entire family down for quality time spent at one of our hair salons. Our stylists are uniquely qualified to make every hair service fun and special, along with making sure everyone leaves with a new hair cut and style that they love.
Our Private Label Professional Line
Salon Quality Hair Care Products
STEP 1 - SHAMPOO
Tearless Shampoo
Gentle shampoo that promotes healthy, shiny and happy hair. Safe for all hair types and even gentle enough for your baby's scalp.
STEP 2 - CONDITION
Tangle Free Conditioner
Conditioners formulated to keep your kids' hair nice and soft. Avoid tangles with our specially formulated conditioner for a tangle free experience.
STEP 3 - STYLE
Pomade & Styling
Finish off your kids' hair with a pomade or special gel. Whether you're looking for daily style or special glitter, we have a product for you.
Adult Haircuts
For More Than Just Kids
Men's Haircuts
Need a trim? Grab a seat on the adult side of our salon and get your hair cut, too. Our Men's Packages include a cut and wash. Our hairstylists specialize in kids cuts, but they are experienced and qualified when it comes to cutting adult hair. In fact, they have the same training and experience as stylists at a traditional salon.
Finding time to get your haircut when you have kids can be difficult and exhausting. So why not do it all at once? Beaners Fun Cuts is here to support parents, too. One way we do that is by offering adult haircuts. This way, you have the option to get your hair cut at the same time. You won't have to go to another salon and book a different time.
Part of the reason we offer our adult service is because we know most traditional salons don't allow children at the appointment. Beaners Fun Cuts is an oasis for parents, and we offer convenience and quality unmatched by other salons.
Women's Cuts
Haircuts & Styling Services
Ready for a new style? Our stylists can handle women's cuts just as well as kid's cuts. We have styling services that you can add to your hair cut or have done separately. Beaners Fun Cuts' stylists will have your hair looking fresh and beautiful when you leave our salon.
Bangs & Trims
Haircuts For Every Age
Finding time for the whole family to get in for a haircut doesn't have to be a hassle. With Beaners, we offer a variety of haircut services for any age, ranging from baby's first haircut to busy parents on the go. For any cut, style or service to maintain between cuts, we are here to give you a new hairdo you'll love.
Adding Bangs
Bangs are a great way to create a new style without losing much length. They'll frame the face, and for some people, can completely transform the way they look. For kids, bangs are a great way to keep hair out of the face, especially when your little one doesn't want to use clips or wear it up.
Trims
We can also provide you with the perfect trim to keep your hair looking fresh while maintaining its length for those times in between hair cuts. Trims are a necessary part of growing your hair. A trim can get rid of split ends and keep your hair looking and feeling healthy.
Here at Beaners we offer bang cuts and trims in addition to our full haircut and styling services. We know hair grows fast, so keeping bangs tidy and out of the way is our goal to help you and your kids get on with the busy day ahead.
Styling Services
Blowouts, Braids & More
Want to make your haircut experience even better? Add on a styling package or finishing service for the full experience. We offer several options for everyone. Our inclusive pampering packages include a shampoo, cut and style. We can also do bead braids, quick curls or even sparkles, if you want them.
Our stylists can help finish your haircut with some quick curls or do fancier styling. From recital braids to updos, our stylists will make it a fun experience that your kids won't forget. Because our hairstylists are also trained in women's styles and blowouts, you can get your hair done at the same time.
Does your child have a special event coming up? A styling package can create a special memory for them and help them look and feel great on the day.